"Remember more in less time"
Can you remember the last time you read something once and could recall it with 100% accuracy? Yeah, nah me neither.
As much as I enjoy reading and learning, I have never been one of those people who could look at something once and immediately grasp it (if you are one of those people, kindly skip to the next blog post). In addition to handwriting notes directly on my printed off PowerPoint, paying attention in class, and doing most of the prereadings, I would record myself reading my own handwritten notes to listen to while running. I also found that the best way for me to grasp a concept was when I utilized an active studying appraoch such as using Quizlet (online flashcards) rather than straight up reading and rereading the content 1000x.
I used to be the Queen of Inefficient Studying- aka someone who studied incessantly, but not necessarily effectively (and definitely not efficiently). Interestingly enough, in my current role as a part time faculty member, some of my students report some of these same inefficient studying patterns.
Let's rewind to November 2019- this is when I received an email about a product trial and potential ongoing collaboration with Picmonic… Only, I just assumed this was for my husband to use because he studies Medicine (living that medical resident work your butt off for pretty much minimum wage life:/)… My perception back then was that Picmonic was only for medical students. (SPOILER alert: I was wrong!)
However, after reading more intently, I observed that they created a Picmonic branch specifically for Occupational Therapy! (insert flashback to when I used to see my husband and his then medical school peers (now current resident physicians) watch and listen to Picmonic and refer to the different make believe characters to each other while they were studying their lives away during board prep!!!!)
Picmonic is active studying with a twist. Picmonic does the work for you through these funny characters and short 3-5 minute audio-visual video story clips that transcribe information into digestible forms. Each video is followed by immediate feedback through a short quiz which further promotes understanding. In brief, Picmonic is founded on story mnemonics that improve mastery and retention in less time.
With Picmonic, facts become pictures… Science shows – image mnemonics work –  boosted the effectiveness by building and associating memorable characters, interesting audio stories, and built-in quizzing…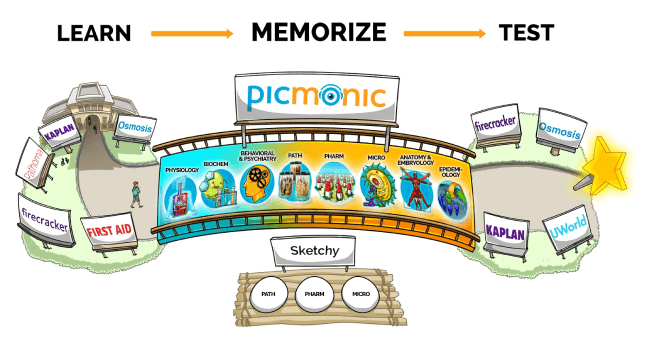 Who Uses Picmonic?
MD/DO – Physicians and Medical Students
NP – Nurse Practitioners and NP Students
PA – Physician Assistants and PA Students
Pharm D – Pharmacists and Pharmacy Students
PT – Physical Therapists/Assistants and PT/PTA Students

OT

– Occupational Therapists/Assistants and OT/OTA Students

Currently, (always growing…) there are 400+ videos available with 5,000 facts specific to occupational therapy

RN/LPN – Nurses and Nursing Students
Paramedics, Pre-Health…
How to Use Picmonic with Coursework?
As someone who discovered Picmonic after completing OT school my perspective is a little different on this, but I can see Picmonic acting as a preparatory method to help you "prestudy" or in other words gain an insight on what you will be studying to better grasp the material the first time. In the same lens, the short videos can be the glue that helps you mesh together what you learned from the classroom vs textbook vs in the lab or clinic as an excellent way to review the materials after class.
Picmonic offers the opportunity for you to create as they say a "mental scaffold" aka memory anchors to help you file away important concepts that are both big picture and small details.
Okay, so tell me what I actually need to hear…
What's the Cost?
Well thankfully and awesomely…Picmonic costs less than a Venti White Mocha at Starbucks and is zero the calories:)
With my Link…. (CLICK HERE FOR 20% OFF PRICE) Picmonic costs:
$3.19/ month for 12 months
$3.99/ month for 6 months
$7.99/ month to month
Overall Thoughts
9/10 stars = worth the investment
The price seals the deal
The strange creatures paired with the short videos, explanations, mnemonics, and follow up quizzes in addition to the pleasant addictiveness comes with having a "streak" for "playing" aka studying and learning are a winning combination
Downside is that it is more "medical-based" OT rather than for instance – "community-based" OT info
I am sold for the shear reason that now 3+ years after graduating OT school, I can remember the Developmental Milestones
Very highly recommend for acute care / hospital-based / inpatient practitioners and students
I love that this is portable – the App is awesome and very easy to access
The people behind the company are kind especially the marketing reps – which makes me like their product even more!
I highly recommend this for students now more than ever to help make online learning a little more engaging and more easily digestible.
Happy Picmonicing !!! Cheers to Efficient & Effective & Not Depleting Your $$$
***Transparency: I am an affiliate which means if you choose to purchase through my link you are supporting this blog and my Instagram which I spend hours of my time working on when I am not working full-time clinically, teaching, trying to work out, doing my best a being a supportive wife, etc — so thank you in advance. 🙂
Any questions?? Comment below!!
With Love,
SHANNEN M